Inspiration dress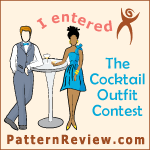 My youngest daughter tried on this dress -->
and instantly fell in love. It was very expensive (about $300), but my main concern was how much leg showed on her 6 foot tall frame (she's obviously taller than this model because it almost showed her panties!). She especially loved how it fit her elongated hourglass figure by accommodating her (substantial) bust, clinging to her tiny ribs and flaring over her hips. She also asked that the hemlines in front look a little more blended and wanted a little bling added (like this other version of the dress that we found on the website). We also created a necklace to draw the eye from her decolletage to her pretty face!
I looked everywhere for a pattern, since I'd never worked with a pattern with this particular fit and drape. I finally stopped procrastinating, took a deep breath and drafted my own pattern using some techniques I'd learned in an online class called Fast Track Fitting by Joi Mahon on Craftsy.com, which created perfectly fit pattern pieces based on detailed measurements.
Pattern Description:
- A hi-low cocktail dress in multi-layered chiffon with rhinestone details.
Pattern Sizing:
Custom fit using techniques from "Fast Track Fitting by Joi Mahon on Craftsy.com" for a 6 foot tall elongated hourglass figure with a 34DD bra size.
Did it look like the photo/drawing on the pattern envelope once you were done sewing with it?
This was an adaptation of RTW
LaFemme 18049
I believe it looks a lot like the original with the exception of a few requested modifications. I wish you could see this dress in motion. We didn't have a fancy wind machine like the RTW models!
Were the instructions easy to follow?
There were no instructions for this complicated dress!
What did you particularly like or dislike about the pattern?
I really struggled to get this dress to cling to the ribs and still flare over the hips without using any darts and very few seams. The top layer was bias cut, but the fabric wasn't wide enough to do the same for the rest of the layers.
Fabric Used:
Fabric from my stash, in this case Nylon chiffon drapery fabric! Yes, this is another dress I stole from our
family room curtains
. "Rhinestone" mesh for the trim and necklace.
Pattern alterations or any design changes you made:
The original RTW dress was waaay too short in front for this 6 foot tall girl. She also wanted the hemlines in front to look a little more blended and wanted a little bling added (like
another variation
of the dress on the website ).
Would you sew it again? Would you recommend it to others?
I actually would make this dress again. Once I got over being intimidated by all the layers and how form-fitting the dress needed to be, and actually started on the construction, it turned out beautifully, and my incredibly picky client loved it!
Conclusion:
I made this dress for my youngest daughter, who is a total fashion diva, to wear for family Christmas pictures, and hopefully prom, but ultimately to wear to my 20th wedding anniversary party. Over the years I've made a lot of dresses for this daughter, and she has never been totally happy with them... until this one! I tried a lot of new fabrics and techniques on this dress and I am proud of how this dress turned out.